Aleph Bet Letter Games Download | Limudisc for Ages 4 to 6
Recognition and identification of the letters of the alphabet for children aged 4 to 6. Recognition of printed and written letters. Around 40 different games for recognizing letters which address the child by name and include worksheets (to be printed) for practicing motor skills.
Description
Limudisk Aleph Bet Letter Games  
These Aleph Bet Letter Games has more than 40 different activities for learning the alphabet and thinking games.
We use the background story to convey the rules of the game to the children, thereby allowing them to play independently.
The creative and learning activities are integrated into the background story.
Where your child helps Donny navigate a large auto maze.
During the journey, the user will learn and practice all the letters and write his first words while becoming familiarized with the keyboard.
The letters are learned in a variety of ways so that the child's attention is maintained.
The game will also maintain child willingness to continue the learning challenges is guaranteed.
The use of vocal instructions enables the child to practice listening, concentration, and understanding and implementing instructions.
During the game, the child receives personal positive feedback which addresses him by name to boost his self-confidence.
The game does not have a time limit so that the child does not experience any stress and advances at his own pace.
In this way, we transform the process of learning the alphabet from a boring activity to one from which the child derives enjoyment and satisfaction.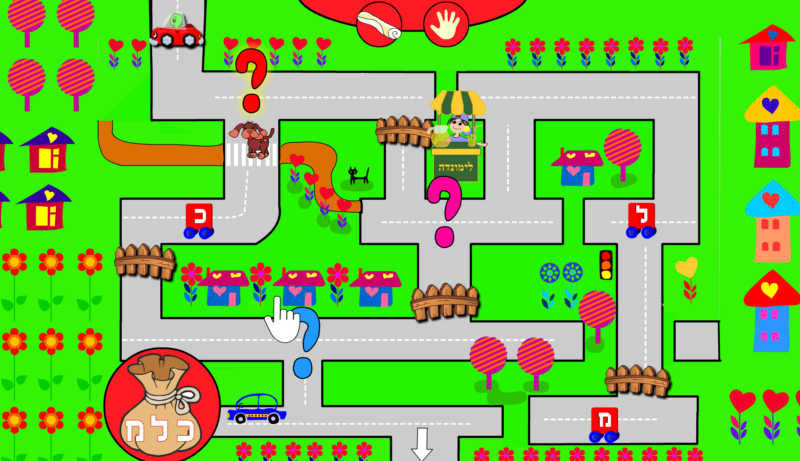 Children with learning disabilities are also happy to play the letters game, and its repetitiveness helps enhance the learning process.
The Limudisc computer games provide an unobtrusive learning process, developing the child's inner motivation to succeed and achieve goals.
The child will sets for himself at his own initiative, rather than based on the decisions adults make for him.
Technical aspects
The game does not require special tools such as a specific or pricey keyboard, or monthly membership payments.
The game operates with Macintosh and/or Windows.
Further information
If you would like more information about Limudisc games – Foundations for Preschoolers and/or other Limudisc computer games, we would be happy to assist you via website chat and/or phone. Contact Tzofi at 0508455245.
Foundations for preschoolers – download | Moving up to First Grade – next game
מה לקוחות אומרים עלינו
רכשתי משחק לימודיסק לגילאי שש עד תשע עבור תום ביתי כשעלתה לכיתה ב'. השבוע כשמלאו לרוני, ביתי השנייה, שלוש, רכשתי ללא כל היסוס את משחק לימודיסק לקטנים (שנתיים עד שש). אני יכולה לדווח על הנאה צרופה מהשימוש במשחק, עליה ברמת הקשב והריכוז ושיחות סלון אודות מעללי דוני, דמות הדינוזאור החמוד. המשיכו ליצר משחקים כאלה.
רינת אמא של תום
/
From Facebook
קניתי את המשחק ליואב בני בן הארבע, רעיון המשוב החיובי בשמו הפרטי של הילד משך את תשומת ליבי. לאחר זמן מה של משחק הבחנתי כי אין במשחק אלמנטים מפחידים (קוליים או ויזואליים), אין ניקוד או שעון זמן מלחיצים ומכל טעות יואב למד משהו חדש. בעקבות הצלחת המשחק החלטתי לרכוש אותו כמתנת יום הולדת איכותית, לחברים של יואב.
דיאנה אמא של יואב
/
From Facebook
קניתי את המשחק לביתי נועה, בתחילה חששתי מיכולתה להפעיל את המחשב ומהאפשרות כי תשהה בסביבתו שעות רבות. מסתבר כי אין צורך בהוראות הפעלה , סיפור העלילה משלב בתוכו את ההוראות, נועה הקשיבה לסיפור והתקדמה בו משלב לשלב. שמתי לב לעובדה שכאשר טעתה, שמשחק לימד אותה משהו חדש ולא קיבלה פידבק שלילי. למידה של הפעלת העכבר הייתה תהליך של חצי שעה ומשם הפכה לעצמאית. הרצון להמשיך ולשחק במשחק משמש אצלי ככלי עזר לקביעת גבולות.
אנג'י אמא של נועה
/
From Facebook