Foundations for Preschoolers Game | Limudisk for ages 2 to 5
Limudisk is a series of computer games for preschools in three levels (2-3,3-4,4-5) which teach the foundations for preschoolers. The game is personalized and addresses each child by name. Suitable for Windows and Macintosh operating systems.
An email explaining the download process will be sent to the user upon purchase.
Description
Limudisk – Foundations for Preschoolers Game | Computer Games for Children
Limudisk – Foundations for Preschoolers Game, is a computer game that addresses the child by name. The game is accompanied by narration that describes the journey of Donny, the cute dinosaur, in search of his parents and other family members.
Your child will join this journey and help Donny solve the riddles.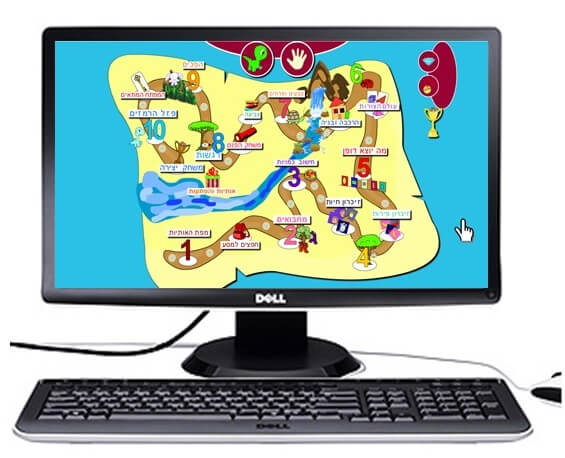 This game is appropriate for children of different ages.
Who is it suitable for?
Limudisk is suitable for ages 2-5. It is comprised of three different levels suitable for different age groups:
Children aged two to three
Children aged three to four
Children aged four to five
The content of the first game of these series was designed to suit the child's age and his abilities with auditory comprehension and the use of a computer mouse.
What will we learn?
This computer game focuses on enjoyable learning, with no stress, violence, or ambition. It has no time limits, scary sound effects, or scoring system.
The game includes more than sixty activities focusing on a variety of subjects and skills (please see 'Content in Three Levels').
The road to independence is paved in the Limudisc games via a background story that conveys the importance of helping others and engaging in teamwork.
It also assists in developing the child's imagination, as well as attention and concentration skills, while conveying the rules of the game in a subtle manner.
Personalized feedback
Limudisk for ages 2-5 contains a range of positive feedback provided to the child upon his completion of the tasks.
The child's name will appear in some of the feedback. Being addressed personally encourages the child to continue his tasks, boosts his self-confidence, and creates a meaningful and successful learning experience.
Limudisk – Foundations for Preschoolers, provides a tailored response for children aged 2 to 3, who are engaging with a mouse operated system for the first time.
Young preschoolers can listen to the stories, complete the tasks, and play the entire game using only one key on the keyboard.
Technical aspects
The game does not require special tools such as a specific or pricey keyboard, or monthly membership payments.
The game operates with Macintosh and/or Windows.
Further information
If you would like more information about Limudisk games – Foundations for Preschoolers and/or other Limudisk computer games, we would be happy to assist you via website chat and/or phone. Contact Tsofi at 0508455245.
Limudisk for ages 2-6 | computer games for children | click here for 4-6 letter games.  
מה לקוחות אומרים עלינו
רכשתי משחק לימודיסק לגילאי שש עד תשע עבור תום ביתי כשעלתה לכיתה ב'. השבוע כשמלאו לרוני, ביתי השנייה, שלוש, רכשתי ללא כל היסוס את משחק לימודיסק לקטנים (שנתיים עד שש). אני יכולה לדווח על הנאה צרופה מהשימוש במשחק, עליה ברמת הקשב והריכוז ושיחות סלון אודות מעללי דוני, דמות הדינוזאור החמוד. המשיכו ליצר משחקים כאלה.
רינת אמא של תום
/
From Facebook
קניתי את המשחק ליואב בני בן הארבע, רעיון המשוב החיובי בשמו הפרטי של הילד משך את תשומת ליבי. לאחר זמן מה של משחק הבחנתי כי אין במשחק אלמנטים מפחידים (קוליים או ויזואליים), אין ניקוד או שעון זמן מלחיצים ומכל טעות יואב למד משהו חדש. בעקבות הצלחת המשחק החלטתי לרכוש אותו כמתנת יום הולדת איכותית, לחברים של יואב.
דיאנה אמא של יואב
/
From Facebook
קניתי את המשחק לביתי נועה, בתחילה חששתי מיכולתה להפעיל את המחשב ומהאפשרות כי תשהה בסביבתו שעות רבות. מסתבר כי אין צורך בהוראות הפעלה , סיפור העלילה משלב בתוכו את ההוראות, נועה הקשיבה לסיפור והתקדמה בו משלב לשלב. שמתי לב לעובדה שכאשר טעתה, שמשחק לימד אותה משהו חדש ולא קיבלה פידבק שלילי. למידה של הפעלת העכבר הייתה תהליך של חצי שעה ומשם הפכה לעצמאית. הרצון להמשיך ולשחק במשחק משמש אצלי ככלי עזר לקביעת גבולות.
אנג'י אמא של נועה
/
From Facebook