Hebrew Reading Games for Kids | Ages 4 to 7
Teaching how to read Hebrew using Zimizama games. Step by step Hebrew learning using games, workbooks, poems, short stories for the practice of reading and listening comprehension, and more.
A multi-year subscription. Now, it is sold on a Flash Drive and is compatible with Windows Operating System.
Description
Hebrew Reading Games for Kids in the Ages 4 to 7
I have seen a lot of Hebrew reading games for kids' are they good and really can teach the to read?
How to teach reading and writing Hebrew is a question that meets every parent.
Can they really learn to read Hebrew in such early age?
We have created Hebrew reading games in a digital format, accompanied by real-world games.
The child is playing, enjoying herself/himself and all of a sudden can read!
Plenty of colorful illustrations and animations. Easy-to-follow stories and songs.
In our Hebrew reading games for kids the child is learning to read Hebrew, while being engaged in exciting, challenging adventurous tasks.
The characters: Ary The Lion, (Aryeh in Hebrew), Iggy the Iguana, Orie Raayony and Effy the Chicklet (Efroakh in Hebrew). These animated figures represent the Hebrew punctuation marks and much more.
New learning materials are is assisted by another animated figure – Yanshoofy the Owl. (Yanshoof in Hebrew).
A relief corner for the child, including games, songs and stories.
A corner for parents and educators. Supporting the learning by a whole assortment of games.
Miskhagool – exercising games. Getting out of the digital world into the real world. Ary, Iggy, Orie and Effy become finger dolls. Reinforcing the learning and monitoring the achievements by songs, movement and interactive adult-child games.
Four learning units, built layer upon layer
First stage: Phonological Awareness
Identifying the speech sounds in every syllable.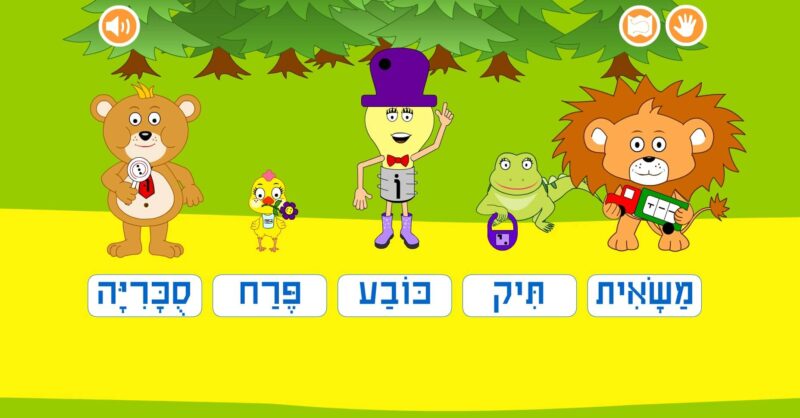 Second stage: Acquaintance with the Letters of the Hebrew Alphabet.
Identifying and naming the letters. Correct pronunciation of the consonants they stand for and writing the letters.
Third stage: Initial Application in Reading
Constructing words. Understanding what is read and heard.
Fourth stage: Improving the Reading Skills
Hebrew reading games for kids is our way to learn reading Hebrew. It goes through activating stories, in which the child takes an active part in creating the story.
Improving the reading fluency. Understanding the details and the story line.
מה לקוחות אומרים עלינו
רכשתי משחק לימודיסק לגילאי שש עד תשע עבור תום ביתי כשעלתה לכיתה ב'. השבוע כשמלאו לרוני, ביתי השנייה, שלוש, רכשתי ללא כל היסוס את משחק לימודיסק לקטנים (שנתיים עד שש). אני יכולה לדווח על הנאה צרופה מהשימוש במשחק, עליה ברמת הקשב והריכוז ושיחות סלון אודות מעללי דוני, דמות הדינוזאור החמוד. המשיכו ליצר משחקים כאלה.
רינת אמא של תום
/
From Facebook
קניתי את המשחק ליואב בני בן הארבע, רעיון המשוב החיובי בשמו הפרטי של הילד משך את תשומת ליבי. לאחר זמן מה של משחק הבחנתי כי אין במשחק אלמנטים מפחידים (קוליים או ויזואליים), אין ניקוד או שעון זמן מלחיצים ומכל טעות יואב למד משהו חדש. בעקבות הצלחת המשחק החלטתי לרכוש אותו כמתנת יום הולדת איכותית, לחברים של יואב.
דיאנה אמא של יואב
/
From Facebook
קניתי את המשחק לביתי נועה, בתחילה חששתי מיכולתה להפעיל את המחשב ומהאפשרות כי תשהה בסביבתו שעות רבות. מסתבר כי אין צורך בהוראות הפעלה , סיפור העלילה משלב בתוכו את ההוראות, נועה הקשיבה לסיפור והתקדמה בו משלב לשלב. שמתי לב לעובדה שכאשר טעתה, שמשחק לימד אותה משהו חדש ולא קיבלה פידבק שלילי. למידה של הפעלת העכבר הייתה תהליך של חצי שעה ומשם הפכה לעצמאית. הרצון להמשיך ולשחק במשחק משמש אצלי ככלי עזר לקביעת גבולות.
אנג'י אמא של נועה
/
From Facebook