Preparation for First Grade Download | Limudisk for Ages 5 to 7
Preparation for First Grade for kindergarten & schoolers. Appropriate for children aged 5,6, and 7. More than 60 preparation games for first grade, Addressing the child by his first name.
Description
Limudisk – Preparation for First Grade
Limudisc games are intended to prepare your children for first grade in a fun and challenging way.
Your child will take an educational journey together with Donny the Dinosaur, where they will familiarize themselves with different behavioral and communication codes.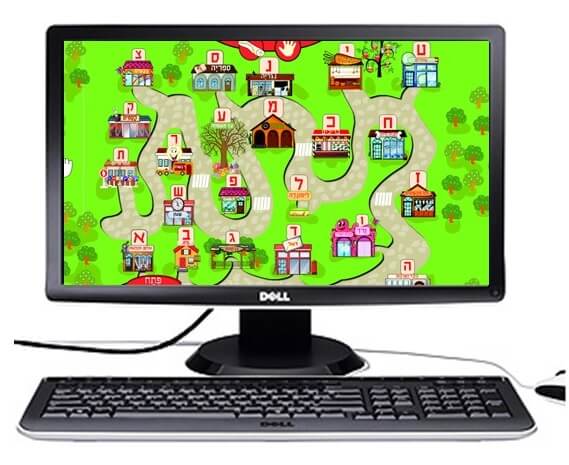 We confront the process of becoming acquainted with a stranger/new person and coping with difficulties and missing the familiar things we have left behind.
While traveling to various sites across the country, we will learn reading and writing skills along with other topics that interest kindergarteners.
The preparation for first-grade game includes more than 60 activities in a variety of areas.
The game's background story is a means to convey the rules.
The game is intended to assist in developing independence, attention skills, comprehension, implementation, focusing and listening skills, etc.
Game method
In this game as well, the children receive personal positive feedback that addresses them by name.
The game is based on fun learning while performing activities that stimulate creativity.
The personal feedback gives the children the experience of success and boosts their self-confidence.
The game method and learned content are intended to practice and strengthen existing skills and acquiring new ones.
What will we learn in the game?
The first-grade preparation games focus on: developing independence, decision making, focusing, attention and concentration, auditory and reading comprehension, supporting creativity, encouraging responsibility, and more.
The content of the game is tailored for children aged 5-7- kindergarteners, and children at the beginning of first grade.
For optimal use of the software, the user needs to know the ABCs and numbers up to 20.
The method of Limudisc -First Grade Preparation, allows the user to learn a wide range of content while enjoying an experiential computer game.
מה לקוחות אומרים עלינו
רכשתי משחק לימודיסק לגילאי שש עד תשע עבור תום ביתי כשעלתה לכיתה ב'. השבוע כשמלאו לרוני, ביתי השנייה, שלוש, רכשתי ללא כל היסוס את משחק לימודיסק לקטנים (שנתיים עד שש). אני יכולה לדווח על הנאה צרופה מהשימוש במשחק, עליה ברמת הקשב והריכוז ושיחות סלון אודות מעללי דוני, דמות הדינוזאור החמוד. המשיכו ליצר משחקים כאלה.
רינת אמא של תום
/
From Facebook
קניתי את המשחק ליואב בני בן הארבע, רעיון המשוב החיובי בשמו הפרטי של הילד משך את תשומת ליבי. לאחר זמן מה של משחק הבחנתי כי אין במשחק אלמנטים מפחידים (קוליים או ויזואליים), אין ניקוד או שעון זמן מלחיצים ומכל טעות יואב למד משהו חדש. בעקבות הצלחת המשחק החלטתי לרכוש אותו כמתנת יום הולדת איכותית, לחברים של יואב.
דיאנה אמא של יואב
/
From Facebook
קניתי את המשחק לביתי נועה, בתחילה חששתי מיכולתה להפעיל את המחשב ומהאפשרות כי תשהה בסביבתו שעות רבות. מסתבר כי אין צורך בהוראות הפעלה , סיפור העלילה משלב בתוכו את ההוראות, נועה הקשיבה לסיפור והתקדמה בו משלב לשלב. שמתי לב לעובדה שכאשר טעתה, שמשחק לימד אותה משהו חדש ולא קיבלה פידבק שלילי. למידה של הפעלת העכבר הייתה תהליך של חצי שעה ומשם הפכה לעצמאית. הרצון להמשיך ולשחק במשחק משמש אצלי ככלי עזר לקביעת גבולות.
אנג'י אמא של נועה
/
From Facebook